Virgin Concrete - a family operation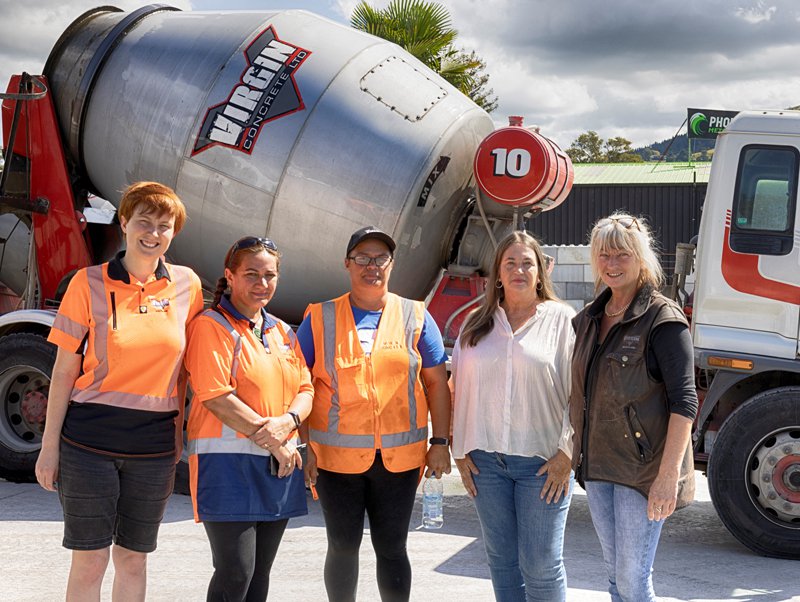 Dick Fisher didn't know a thing about concrete when he saw an opportunity to start a ready mixed concrete operation called Virgin Concrete in Kamo, just north of Whangarei, in late 2008. But that didn't stop the entrepreneurial businessman, who already owned a successful heavy engineering and galvanizing firm in the region, says his daughter Suzy Fisher. She is now managing director of Virgin Concrete.
"Dad hadn't been able to establish a reliable source of concrete locally, so he bought a bowl on the back of a truck and decided to make his own. Before long, we chose some land the family-owned next to Dad's engineering firm Avon Industries was the ideal site to locate a concrete plant, so we ordered five new Isuzu trucks and brought in a CON-E-CO batching plant from the USA.
"He wanted to call the firm Virgin Concrete, in a nod to the family's lack of experience in the industry, but faced seemingly insurmountable odds, given Sir Richard Branson had already registered the name Virgin for thousands of business categories worldwide. After 18 months of 'backwards and forwards' with Branson's team in the UK and the threat of huge legal fees, Dick came out on top against the global corporate giant. "Dad was tenacious and refused to back down. In the end, they resolved the issue without lawyers, which saved a penny. He did really well," says Suzy.
The company's growth has been rapid, with it quickly moving to 13 trucks, and now 18, following the addition of five more new trucks. Suzy has been involved with Virgin Concrete since day one, moving across from the other family business Avon Industries, which specialises in galvanizing steel, welding, blasting, and painting. "I've never been to work in a skirt, put it that way," says Suzy. She has taken to the concrete business 'big time' despite having no knowledge in the beginning. "I thought this is going to be easy, you just put concrete in a truck, and away you go, but I've learned so much about the complexities of the industry from the awesome team I have around me," she says.
Suzy manages the business's day-to-day operation, including programming and dispatching, and says she won't ask her staff to do anything she can't do herself, apart from driving trucks, as she doesn't have her HT licence. "Dad said I had to know everything that happens here and how to do it, so I started at the bottom and worked my way up with the help of many good people," says Suzy.
Virgin Concrete's production team, Matt Richards, Mike Mills, Suzy Fisher and her daughter Rachel Reeder, have 69 years of combined experience in concrete production, and the business could not operate without them. Rachel has recently started a BCITO apprenticeship in concrete production, which will add to the company's ability to meet future challenges.
Being a small independent firm, Virgin customers can talk to Suzy with any concerns without having to go through middle management. They enjoy being able to communicate with the person at the top who can make appropriate decisions or give answers straight away.
With plenty of forward work ahead in 2022, Suzy is proud of the progress made by the company during its 14 years in business, and although still a relatively young firm, it could no longer be considered 'virgins' in the ready-mix concrete sector. "I'm incredibly proud of the efforts of our fantastic team, who have been instrumental in getting the company to where it is today. We will continue to strive for excellence in everything we do and maintain our strong values as a family-owned company serving the local community," says Suzy.
More News
Earlier this year, BCITO and workplace training provider, Education Unlimited, joined forces to run an Apprentice Support Programme for 15 Te Tai Tokerau apprentices.
Last year BCITO, Te Pūkenga trained glazier, Charmaine Farquhar was awarded the Glass and Glazing Apprentice of the Year Award - something she'd strived for throughout her whole apprenticeship.