Your voice at the BCITO table
BCITO is required to know about and respond to the skill and performance requirements of your sector.  One of our mechanisms to achieve this was to form a National Advisory Group (NAG) made up of real and connected people from your industry.  For all intense purpose, these people are your voice at the BCITO table.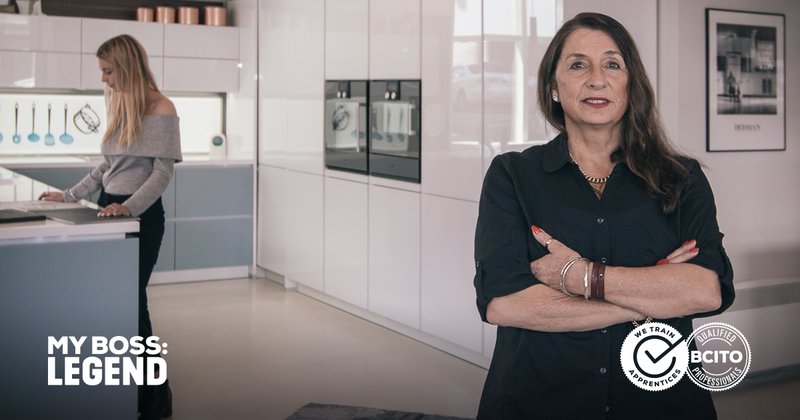 Key functions of the Kitchen and Bathroom NAG are to help us build a correct and current view of the skills and capability needed in your workforce; pinpoint and share future requirements based on trends, lifestyle, technology changes;  write strategies that close gaps between existing qualifications and what's really needed on the showroom floor or within the perimeters of great design.
It's important to the national advisory group that you know who they are and a little about them.  Introducing to you today: Milvia Hannah. 
Milvia how did you get started in the Kitchen Design Industry?
"I believe the basis of my love of design comes from my Italian mum.  Her exceptional taste in style, coupled with a very good eye for detail, taught me to appreciate design in all forms from a young age.
"I always had an artistic talent, loved anything creative and with a natural ability enhanced my skills through a variety of courses.  I was extremely lucky to get the opportunity to work in the Kitchen and Bathroom industry, and to use my natural talent to shape a career in the world of Design." 
Why the design industry?
"What drives me now is the passion of design.  I like to push boundaries, to keep improving, to take things to another dimension and to enhance my design abilities.  I like to bring a depth to everything I do – the design, products, colours, insights into the philosophies and values, what makes it work.
"One of my enjoyments is the love of design and working with people.  I relish the challenges of creating unique spaces for individual people, to realising their dreams by designing spaces that give them functionality, practicality, beauty and tranquillity.  To achieve that not only brings satisfaction but also a great sense of pride.  It's a great reward.
"The kitchen and bathroom industry is varied, interesting, demanding, and progressive.  I enjoy the challenges it brings, gaining Qualifications, and using the skills, experience and knowledge I have learned."
Why be a part of the NAG?
"After many years in the Industry, I like to 'give something back', and by being on the BCITO National Advisory Group, working alongside industry Professionals, allows me to assist in shaping the Education arm of our Industry
"I also have the privilege of being a NKBA Tutor, which is a position I enjoy, and is a very satisfying personal reward.  This allows me to share knowledge and experience, to inspire students and young designers, igniting their passion, enthusiasm and shaping their talent in all aspects of design.
We will be introducing your NAG members over the upcoming sector emails; your thoughts and feedback about training, education, and change are invaluable.  We invite you to use your NAG channel to have your voice heard.  
Milvia Hannah, German Kitchens Ltd
More News
The Building and Construction Industry Training Organisation (BCITO) is pleased that the Government is moving quickly to establish the first construction Centre of Excellence (CoVE).
BCITO comes on board this season to become the front of jersey and official sponsor of the Waikato Under 19s team.