Vuvale (family) values contribute to success
We asked recently qualified carpenter, Joji Ravula, to share his apprenticeship journey in celebration of Fijian Language Week, Sunday 3 October to Saturday 9 October.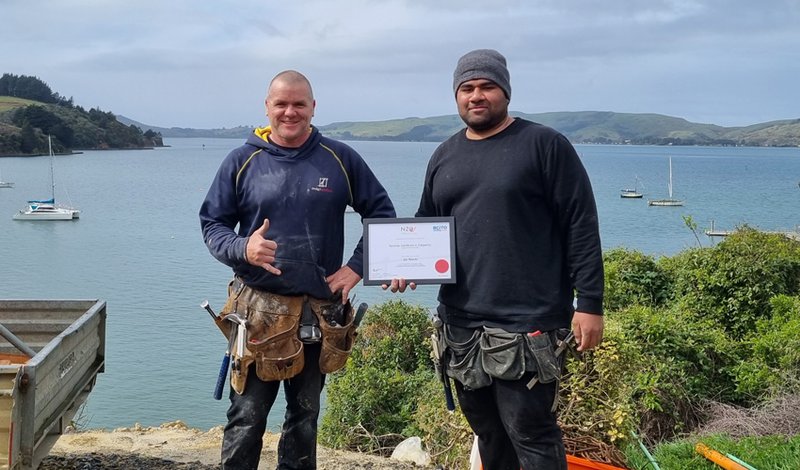 Growing up in the tropical paradise of Kadavu (Fiji's fourth largest island) may sound like a dream to many of us. Still, Joji's dream truly began when he took up professional rugby. This led to an opportunity to play in New Zealand, where he saw his career steer him down a new path and into building and construction.
"I knew rugby wasn't going to be forever," Joji says, "that's why I wanted to learn a trade so I had something I could turn my focus to when rugby wrapped up."
In 2017, Joji lived in Queenstown, 'the adventure capital of the world', when he signed into his BCITO carpentry apprenticeship. Fast forward four years and a transfer to Dunedin later and the 27-year-old completed his qualification in carpentry with Southern Coast Construction in August 2021. Joji says this was a change in direction that would turn out to be one of the most rewarding decisions of his life.
Joji's training advisor, Kalisi Dolan, couldn't be more proud of watching Joji's journey to getting qualified. "We would bond over our Fijian heritage. He is a typical Fijian boy; smart, polite, quiet and hard working. He was always motivated from the get-go to get his progress signed off and was fantastic at the theory work as well," she says.
Joji admits there are challenges aplenty in his job, "It can be demanding at times, especially when you have to work for hours on sites in the cold and rain, but the most rewarding part about training through BCITO is being able to learn while you work."
A major contributing factor to Joji's determination to succeed is his vuvale (family). He says, "Having my family at the centre of everything I do is my favourite value of Fijian culture. My Dad is my role model, he taught me to believe in myself, be proud of who I am, and that family always comes first. When my family heard I was qualified, they were so proud of me."
With his family at the core of everything, it is no surprise Joji and his partner were overwhelmed with delight when they recently welcomed their firstborn into the world.
From a star on the field to a star on the tools and now adding fatherhood to his already impressive repertoire, it seems Joji's underlying passion makes him unstoppable! When asked what the future holds, he excitedly replied, "I'm most looking forward to working my way up to owning my own company."
We are proud to support our Fijian apprentices and celebrate their beautiful language. Joji encourages everyone to learn a new phrase for Fijian Language Week and kindly shares two examples:
Ni sa Bula - Greeting/Hello.
Vinaka vakalevu – Thank you very much.
More News
We have put in place a vaccination policy and process that allows us to protect everyone and meets the requirements of the Covid-19 Protection Framework (traffic light system).
New Zealand Master Joiners Otago Chapter, BCITO and the National Kitchen and Bathroom Association have been holding a graduation ceremony for Joinery and Kitchen Design apprentices for ten years.