From trainee to trainer
Former BCITO apprentice now training twenty-plus builders.
Tristan Sanders completed his BCITO apprenticeship over a decade ago. Since then he has trained over 30 BCITO apprentices.
Tristan committed himself to his trade at an early age. After waiting tables at the age of 14, he soon decided a hands-on job was the right path for him, and the trades offered a good mix of outdoor work and physicality.
Having trained through BCITO himself, Tristan's company We Construct Ltd, has now trained more than 30 apprentices with the support of BCITO. Most of these apprentices are still with the company today, either fully qualified or in training. Their BCITO Training Advisor David Parsons, was in fact Tristan's Training Advisor when he was an apprentice. The group of current apprentices include two females and a mix of Māori and Pasifika.
Tristan's motivation to train is not only for the benefit of the sector, but the opportunity to see these apprentices learn new skills, and learn new skills himself.
"There is a massive shortage of builders and I really want to see this improve for the country. The only way this will happen is if we see more employers training.
"Not only does training help the sector, but it is also incredibly satisfying to see something click in the apprentice's mind when they realise that it is not all manual labour. They need to be practical and logical thinkers to stay ahead on all the new and different products being used today, and the training helps keep me up-to-date with the latest regulations and codes," says Tristan.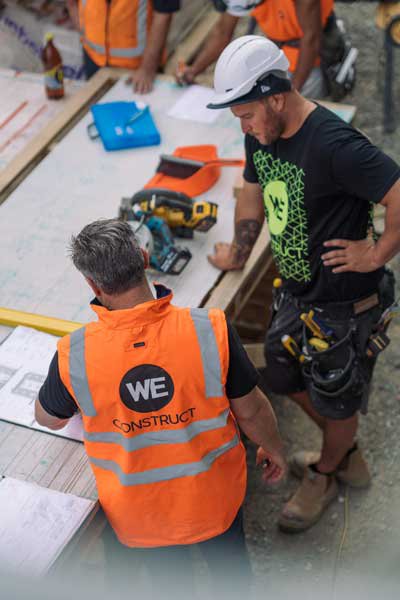 "I'm willing to train anyone who is willing to learn. Our apprentices come from overseas, other parts of the country, straight from school, or are older people looking for a career change. As long as they are hard-working and show up on time, I am happy to let them give it a go.
Tristan loves working as a builder and sharing his knowledge and skills with his employees.
"It's great to be able to see the finished product at the end of each day. I tell the guys and girls I employ that although this is a job for us, what we build will impact people's lives. They invest significantly in what we build them and it will be around for years to come."
We need more employers like Tristan, training our future tradespeople. Find out more about how to get involved, and what support is out there for you.
More News
We have put in place a vaccination policy and process that allows us to protect everyone and meets the requirements of the Covid-19 Protection Framework (traffic light system).
New Zealand Master Joiners Otago Chapter, BCITO and the National Kitchen and Bathroom Association have been holding a graduation ceremony for Joinery and Kitchen Design apprentices for ten years.