A welcome challenge
In just a few days, 16 BCITO construction apprentices from around Aotearoa will embark on a 16-day Outward Bound journey in the Marlborough Sounds.
The course is designed to allow apprentices to connect with other like-minded peers, and helps young leaders build confidence, become self-aware and improve communication and teamwork skills – all necessary skills to become future leaders in the industry.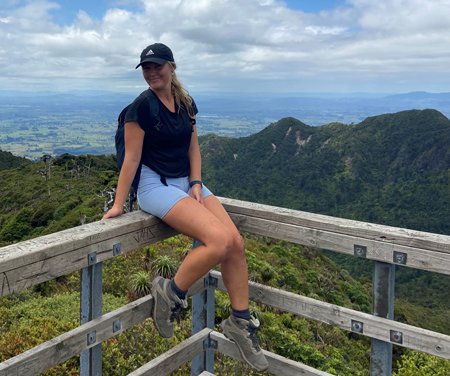 Hayley Mahar is one of the apprentices preparing to embark on an Outward Bound adventure and is a recipient of one of the Mana Wāhine Outward Bound scholarships. The scholarship offers at least three places on the course to encourage Wāhine to attend, aiming to support growth and development within a group that is currently under-represented in trade careers.
"When I found out I had received the scholarship I was so happy, I almost cried. This was the second time I had applied for it, so it was a special moment when I found out I was going. I've been on a few different camps, as I love being outdoors, but I think this one will be a whole new experience. I'm excited to push my boundaries, gain some new teamwork skills and really learn from the experience. When I saw there was an opportunity to apply through the Mana Wāhine scholarship, I jumped at it."
There are many aspects of the Outward Bound experience Hayley is looking forward to, however, there are elements of the course she knows will be a challenge.
"I'm looking forward to all the new skills I'm going to learn and how I'm going to feel after completing the course. I know a program like this will push me out of my comfort zone, which will be a challenging but beneficial experience, especially in developing my leadership skills. Considering it's July, I know it's going to be very cold, so I'll need to wrap up warm!
"The biggest challenge will be the solo overnight expedition in the bush, however, I think it will be a great opportunity for self-reflection, with time to consider my values and goals, and what's important to me."
Hayley has big plans for the future and hopes having Outward Bound on her CV will give her an advantage in her career.
"I'm focused in the short term on completing my apprenticeship and becoming a qualified builder. Further in my career, I aspire to become a site manager or foreman. Hopefully having an experience like Outward Bound will set me up well for this."
Given the course length is just over two weeks, Hayley had to get permission from her employer to go.
"I'm lucky to have a supportive employer who understands what a great opportunity going on Outward Bound is. We are super busy at the moment, so I'm grateful to have been given time off work."
Hayley is excited to try something new, meet a group of like-minded people and to challenge herself.
---
Well done to all recipients BCITO Mana Wāhine and Outward Bound scholarships, we wish you all the best on your Outward Bound journey and can't wait to hear about your experiences on your return.
Recipients of the 2022 Mana Wāhine and BICTO Outward Bound scholarships:
Abbey Jane Mills, L B G Builders
Catherine Kautai, Accurate Infrastructure Solutions Ltd
Danielle Duffy, S R Builders Waiheke Limited
Hayley Mahar, Pedersen Homes Ltd
Ilse van Wichen, Grace Builders Holdings Trust Ltd
Jessica Moses, Fresh Look Decorators Ltd
Lucy Talei Bennett, Sisters Carpentry
Natasha Bach, Foster Construction Limited
Sarah Harris, Drywall Magic Ltd
Hennessy Kear, Kitchens with Zest Limited
Cassius Kulsen, D G Construction Ltd
David Hughes, Morris & Bailey Ltd
Flynn Booth, South Floors
Maxwell Sercombe, HEB Construction Limited
Billie-Gray Douglas-Bramwell, Dunedin Monumental Masons
Ethan Whittaker, Metro Performance Glass (Lower Hutt)
More News
Wood Solutions have been carving out the way for sustainable practices and diversifying their workforce. They are minimising and repurposing waste and create a healthier and more welcoming workplace where 1/4 of their workshop are female.
Jenna Toailoa and her husband Manu's RedRock Plastering has been making a name for themselves with their high quality work all the while taking on apprentices, showing it can be done.