The woman who 'runs rings' around men
Bonnie Fairbrother admits some of her girlfriends were shocked when she got a job as a bricklayer.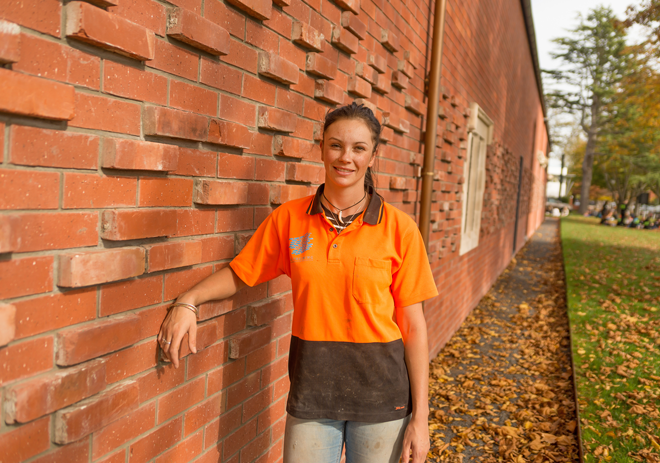 "I'm small and skinny, I'm not a big tough looking person and they probably thought I couldn't last," she says.

Their views are understandable. Fairbrother's previous job was managing a women's fashion store in Christchurch; before that she worked as a restaurant waitress. "I am into fashion," she says, "but I'm also an outdoors person and being inside all the time started to get to me."
Now, 15 months later, 25-year-old Fairbrother is not only still in the job, she frequently "runs rings" around her male colleagues according to her employer Kurt Thelning, contracts manager at Christchurch-based S A Thelning Brick and Block Laying Ltd.
Thelning says he was at first hesitant to take Fairbrother on. "I had a few doubts because it's a physical, male type of job but I've been very impressed with her work. She runs rings around the guys sometimes which makes them lift their game."
Fairbrother is nearing the end of her apprenticeship (she is doing a National Certificate in Brick and Block Laying) and expects to be fully qualified by the end of the year. She is one of only three female brick and block laying apprentices in New Zealand.
Her story comes as the Building and Construction Industry Training Organisation (BCITO) is running a Not Your Average Tradie Road Trip aimed at attracting more people into the trades.
It involves a group of BCITO apprentices travelling the country to help community groups, schools and charities with building projects. Up to 50,000 more workers will be needed in the construction industry in the next five years as the building boom continues, about half of whom will need to be qualified tradespeople.
Fairbrother says she approached Thelning after becoming sick of her fashion store job. "I knew Kurt and I asked him to give me a go," she says. "I like the outdoors, I ride horses and grew up on a farm. At high school I did well in woodwork and considered taking up carpentry at one stage.
"I know a lot of the guys were shocked when they saw me on site (Fairbrother is the only female among the company's 36 brick layers) and it just took courage to do. I knew they were not quite sure about me because they'd never employed a woman before - and when the day came I thought 'shall I do this'?
"I don't worry about what others think, I'm doing what I want," she says. "I tried my absolute hardest and I didn't think I would enjoy it so much; it's creative, physical and I like a challenge and doing something different, this is me now," she says. "Everyone has been helpful and supportive."
Fairbrother says she is proud to be playing a part in the Christchurch rebuild - Thelnings have been heavily involved working on a number of inner city projects including the University of Canterbury and two carparking buildings - and says her goal is to one day set up her own company.
"At first I wasn't sure she was serious," says Thelning. "She did a couple of trial days and I was very impressed. She is a very quick learner, is reliable and good on detail and I quite quickly offered her a fulltime job. She is flying through her apprenticeship."
Thelning says the company, which has been operating in Christchurch for 35 years, has four apprentices including Fairbrother. But in the last five years it has struggled to find enough young people.
"We've been into schools, and it's hard to say why it's so difficult. It might be kids are more interested in technology these days, but we still need more builders and bricklayers."
He says he would be willing to employ other female workers given Fairbrother's success and believes her example could help attract more women to the trade: "At least they can see it is possible."
BCITO chief executive Warwick Quinn says at a time when thousands more apprentices are needed to cope with building consents running at a 40-year high, female workers are an untapped resource.
"While the proportion of women working in the construction sector has increased over the past 10 years, data shows they are still under-represented on building sites across New Zealand," he says.
A 2016 PwC report looking at the role of construction in the New Zealand economy, found the ratio of male to female workers fell from 6.3 to 1 in 2005 to 5.9 to 1 in 2015. In this time 5,887 female workers joined the industry, a 45 per cent increase.
The report says construction is the fifth largest sector in New Zealand by employment with over 178,000 fulltime jobs. The industry, together with construction-related services, contributed eight per cent to the New Zealand GDP in 2015.
A group of up to 10 apprentices are taking part in the Tradie Road Trip. They are working on projects in Auckland, Tauranga, New Plymouth and Wanaka and include carpentry, flooring, interior systems, joinery, pre-cast concrete and painting and decorating trades.
More News
NAWIC are delighted to have received a significant increase in entry numbers for their fifth annual Excellence Awards, this year in partnership with BCITO. Finalists have been announced today.
The Building and Construction Industry Training Organisation (BCITO) is pleased that the Government is moving quickly to establish the first construction Centre of Excellence (CoVE).