Worksite is the real classroom
The past year has seen a build-up of construction work flood New Zealand and Nelson is no exception.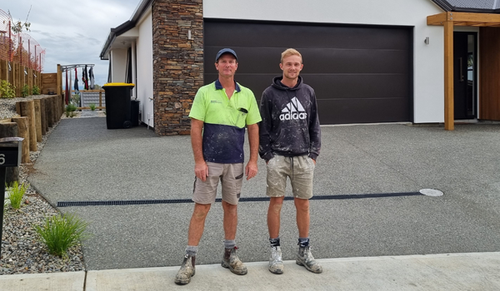 Between new housing developments, commercial buildings and renovations for families who have been unable to travel, exterior plasterers are busy and the need for skilled staff is high.
Todd Adlam has been an Exterior Plasterer for twenty-three years. He has owned a business for seventeen of those years and has trained apprentices for the past twelve. Todd's company has a training-oriented structure with rarely fewer than six apprentices in their team of eighteen.
Todd says, "There's value in having trained people. Plastering is not an easy job so if they are willing to apply themselves, they deserve a qualification. If you like being outside then this is the trade for you. The people who make it through the first two years usually stick around." Given the very manual, outdoors-heavy nature of the work, Todd knows the ongoing need for more staff is a tough one to solve.
Todd's son, Louie, has been qualified for eight years and is an important part of the business's training ethos. Louie has trained five apprentices, all of whom are still with the company. Louie says, "It's a hard trade. We have a crew for every rate of learning. The slower crews give the staff more opportunity to catch up or stick it out at their level."
Todd and Louie both believe that taking on new blood is essential to building a future-proofed team and this structure enables them to find a niche for every staff member who sticks it out. In recent years they have hit a ratio of qualified/highly skilled staff to apprentices that has made training more people easier.
The goal of training is to make sure the apprentices are well supported. "We have qualified people with dyslexia. Society looks at people who don't do well in school as being unfit for the workforce.," says Todd. However, he believes that those with good attention to detail are the best when it comes to plastering. Todd and Louie incentivise their team with bonuses and make themselves available to help with tricky questions. Todd says, "Our apprentices might do bookwork at home but the worksite is the real classroom."
They see the relationship with their BCITO Training Advisor – Stephen Needham – as an integral part of the trainee experience. "Stephen has always been helpful with the guys. Answering questions and helping them out where needed," says Todd. "Todd and Louie are passionate about their trade and their best investment is in their people," says Stephen, who has watched Todd establish a healthy team through a good training regime.

Todd believes that the mission of training is to give yourself a good base of staff but to also know that some of them will leave to go off on their own which is good for the industry.


More News
We have put in place a vaccination policy and process that allows us to protect everyone and meets the requirements of the Covid-19 Protection Framework (traffic light system).
New Zealand Master Joiners Otago Chapter, BCITO and the National Kitchen and Bathroom Association have been holding a graduation ceremony for Joinery and Kitchen Design apprentices for ten years.