You won't get bored quickly, that's for sure
The journey and successes of an Exterior Plasterer.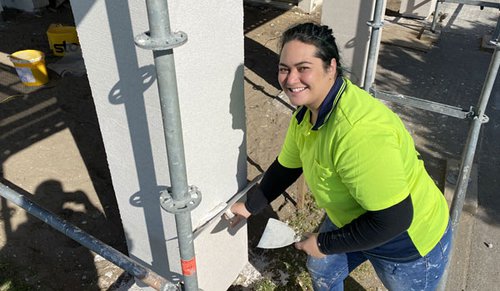 The Exterior Plastering trade takes a degree of resilience. Working outside in all kinds of weather is no small feat. Resene Construction Systems Apprentice of the Year winner 2019 Azure Kutia has found both success and a career in her seven years working with PPCS. Azure works for JB Painting & Plastering Limited, a family business in the Bay of Plenty owned by her uncle. We caught up with Azure to discuss her journey in the trade.
When did you start working with PPCS?
I started working with PPCS when I was around 22 years old
How long after that did you start your apprenticeship?
At first, I was hesitant about committing to a trade because I considered returning to University to finish my science degree. However, after three years and tonnes of encouragement from my Uncles/bosses. I decided the exterior plastering trade was definitely the career path for me and started my apprenticeship.
What was the greatest learning (or learnings) you took from your apprenticeship?
My construction knowledge was really non-existent even though my uncles had been in the trade for years. I had no idea what they actually did. So I tried to soak up all the information they could teach me. Fortunately, they taught me the importance of each step in the PPCS and helped me understand the process.
How would you describe your journey to receiving the Apprentice of the Year Award, and what steps or challenges were involved?
I would probably describe my journey as surprising. I never envisioned this as my career path, so I didn't expect to compete in Apprentice of the Year, let alone win it, even though my family and BCITO training advisor Scott had always encouraged me. I didn't know any other apprentices, so I didn't know what to expect in comparison.
The biggest challenge for me was that we aren't exclusively an Exterior Plastering company. So I had to learn Interior and Exterior plastering and painting. I was doing something different every week, which is good to keep things interesting but hard when you're trying to do an apprenticeship in one trade, not three. Luckily I'm a fast learner and very detail orientated, so I enjoy the problem solving and building aspects of PPCS.
How is your day to day work different now that you are qualified?
My day to day work hasn't really changed much since I've been qualified. Towards the end of my apprenticeship, I oversaw most of the projects. Teaching and supervising as I'm very particular when it comes to weather tightness and finishing details. I live in a small town, working with the same builders so they know what standard of work to expect from us. I always want to be proud of every job I do whether that's a new multi-million dollar home or a remedial repair.
What is the best part of working in Exterior Plastering as a trade?
The best part is definitely job satisfaction, there isn't a lot of jobs out there where every day you leave knowing you're one step closer to completion and that your work looks better today than it did yesterday. Also inspiring my younger siblings to get into the trade and working alongside each other in the family business.
If you could give advice to a job seeker thinking about getting into Exterior Plastering, what would it be?
My advice would be to go for it, there is such a variety of things involved that you won't get bored easily that's for sure. So if you enjoy problem-solving, change of scenery as you move around job sites and physical work. Then it could be the career for you.
More News
We have put in place a vaccination policy and process that allows us to protect everyone and meets the requirements of the Covid-19 Protection Framework (traffic light system).
New Zealand Master Joiners Otago Chapter, BCITO and the National Kitchen and Bathroom Association have been holding a graduation ceremony for Joinery and Kitchen Design apprentices for ten years.