Young hairdresser stuns mum with switch to construction
Danyelle Bogue is a 22-year-old Wellington-based former hairdresser who leapt into a painting and decorating apprenticeship – and loves it.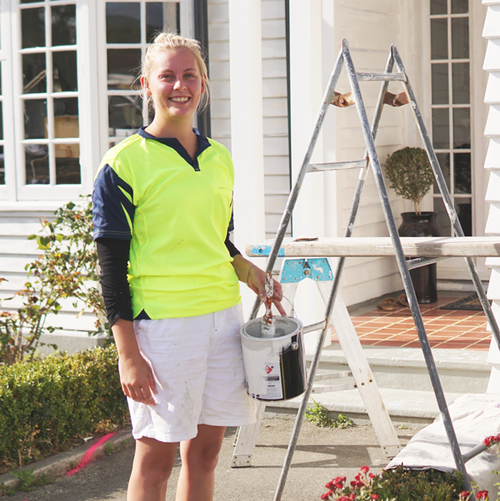 After finishing high school, Danyelle was keen to go straight into the workforce. "I wanted to start earning money straight away and wasn't keen on racking up a large student loan," says Bogue. 
"My grandmother and older sister were hairdressers, so I just followed suit – but after two years I knew it wasn't my passion."
When her friend told her about a painting and decorating role, she sounded like it would be a good fit for her. As an active kid growing up on a farm, Danyelle loved hunting and always enjoyed hands-on work. She thought she had nothing to lose by giving building and construction a go. "I started the job in August 2018 and by November that year, I had begun my apprenticeship through BCITO. Since then I have never looked back."
When Danyelle first told her parents about her career change, they were taken by surprise. "It was completely left field. I had no family members working in the trades and had never expressed an interest before, so it really came out of the blue for them."
Danyelle's mum, Pam Munro, had concerns about her daughter's choice of career. In particular, she was concerned about her being able to make ends meet financially.
"As a mum, you always want what's best for your child. I was concerned that Danyelle would be starting a new career from scratch – meaning she would have to start from the bottom of the pay scale. But I knew she wasn't happy in her hairdressing job. She'd often come home from work upset and have to work long hours."

"Now after seeing her confidence grow in this job, and having seen some of the work she has been able to achieve I couldn't be prouder. And she has also come out better off financially, with her being rewarded for her skills.  
"I would say to any parents who are uncertain or against their kids doing a trades apprenticeship that it's a great career path. Particularly if your child does not want to go down the university route, a trades apprenticeship provides an equally good next step after high school," says Munro.
Danyelle and her mum were interviewed recently on TVNZOne's Breakfast show.  Watch it now
More News
The Building and Construction Industry Training Organisation (BCITO) has set a record of 16,000 apprentices in training.
Have you heard? – the NAWIC Excellence awards 2021 are happening and open for nominations!