Young, qualified flooring installer becomes trainer
Here at BCITO we are lucky to be able to work alongside flooring employers and apprentices that live and breathe apprenticeship training as much as we do. It's particularly encouraging for us to see one generation pass their skills and knowledge on to a new generation of installers entering the industry.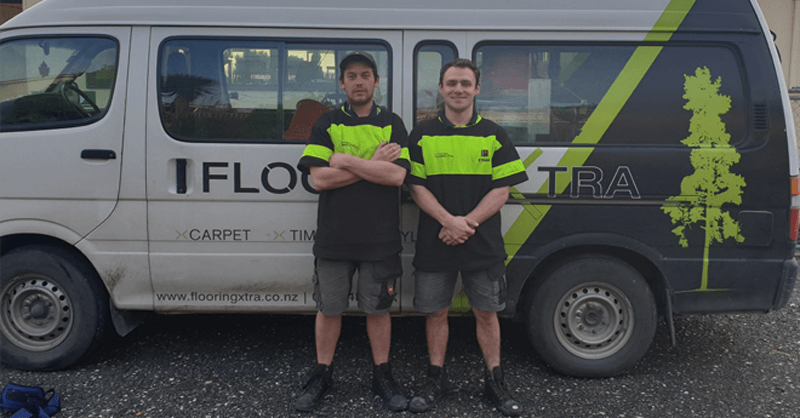 I recently travelled from windy Wellington to the deep south of Invercargill and Bluff to meet a particular pair of installers that are doing just that. One special thing about this duo is that the trainer is himself recently qualified - and is only 22 to boot! 
Ethan Hawken is overseeing the training of apprentice Marcus White at Winton Flooring Xtra under the guidance of husband and wife owners Chris and Rebecca Burns. 
The flooring apprenticeship has been a great experience for both Ethan and Marcus. Ethan was drawn to the flooring industry by the man, the myth, the legend - BCITO's very own (recently retired) Scott Cato. Scott met Ethan when he attended his high school careers evening, where he subsequently put him in contact with Chris and the team at Winton Flooring Xtra. He completed some work experience in the holidays and later joined the company as an apprentice when he finished high school. Ethan went on to complete his apprenticeship in 2017 and has been giving back by training new apprentice Marcus for just over a year. 
Marcus entered the flooring trade when he joined Winton Flooring Xtra through a referral from a family friend. At the time Marcus was driving forklifts and was looking for a career change. Marcus is progressing through his qualification quickly under Ethan's expert training and the great variety of work that he's being exposed to at the company. 
Ethan is enjoying the process of training Marcus and their teamwork has been crucial in helping quickly complete those time pressured jobs. They enjoy taking on the challenge of large commercial work and have completed a number of these jobs in their time paired together. Training someone else has also helped Ethan fully understand and appreciate what his trainer did for him. 
Ethan is a great example of what the flooring industry can offer a young career seeker. At 22 he has gained a formal qualification while completing his apprenticeship without the burden of a large student debt. Additionally, he has been able to achieve this all while earning a good living and saving. Recently, he has been able to buy his first home and a flash new Mazda BT-50 truck, which now fills the driveway. Marcus is working to Ethan's example and plans to finish his apprenticeship and stay on at Winton Flooring Xtra to train the next new apprentice that starts with the company. He also has aspirations to buy his first home later this year.  
Next year the store will be celebrating 50 years in business. Chris explained that throughout the store's history apprenticeships have always been a major part of their business. "Putting our staff through apprenticeships help us train them to ensure our work is finished to a high standard. It also helps our company culture by influencing people's attitudes towards work, that they turn up on time and respect the customers." Chris doesn't just talk the talk, Winton Flooring Xtra has six apprentices currently working towards achieving their flooring installation qualifications. 
More News
The Government has announced a $12.1 billion COVID-19 Economic Response Package for small to medium businesses and employees during this period of uncertainly.
The health and wellbeing of our industry's employers, apprentices, and our people are of paramount importance to us.