Pipeline Report 2019
This report aims to provide awareness of the expected pipeline of building and construction work to support; planning, scheduling of investment in skills and capital and coordination of construction procurement for improved scheduling of construction projects.
In this MBIE report (which is jointly prepared by Pacifecon and BRANZ), a peak in total construction value at $43b is forecast in 2021. This has been driven by an anticipated levelling out of residential activity from 2020 onward as well as a tailing off of non-residential activity in 2021.
Auckland, however, bucks this trend, with strong growth in residential activity forecast throughout the forecast period. This is forecast to reach $12.2b by the end of the forecast period (which is 39% above 2018 levels).
Nationwide, dwelling consents increased by 6% in 2018 over 2017 and are forecast to increase by a further 9% in 2019. It is anticipated that 224,500 new dwellings will be consented over the next six years, an average of over 37,000 per year. Of note is the fact that multi-unit dwellings accounted for 36% of all dwellings consented in 2018, which could increase to 41% of all residential dwellings in 2024.
Key Findings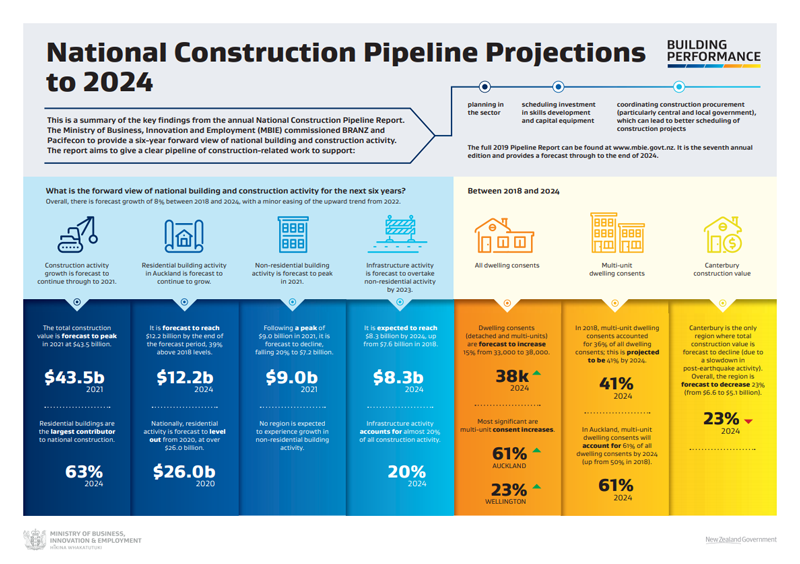 For a detailed analysis, read the full report.
More Research
Building on the work completed in stage one, BERL explored the data deeper in order to better understand the situation of the current Māori workforce today, especially in high risk sectors.
This research employed the Treasury's Living Standards Framework (2017) to identify and delineate the economic footprint of the Pacific community within New Zealand's economy.