Show your support for women in trades
Displaying your support of women in construction trades can help grow your business.
On International Women's Day we came up with a simple way for tāngata to show their support for women who have successfully taken a bold step into a career which in days gone by has been viewed as a 'man's job'.
At a time when we need more people in the construction trades, we wanted our female apprentices, their employers and fellow tradies to celebrate this day. Ongoing, we want our industries to recognise that diversity is a key step in encouraging more women to look at a trade as a viable career option.  This led to the creation of this icon.
This symbol is available here to download and use, whether you're a tradie, a partner, friend, co-worker or an employer of women in construction, we're pleased for you to share it.

Show customers and the wider market that you're a company or individual that is inclusive and diverse.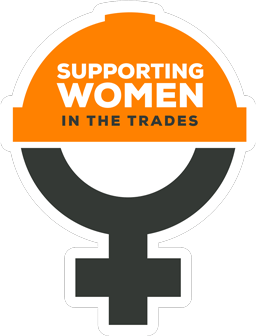 Tell New Zealand you're a business or person who supports women in construction across all your channels.
You can use the Supporting Women in Construction Trades icon to help promote your tautoko of diversity and inclusiveness in your business on any of the following business-related promotional material:

Company website

Stationery — letterhead and business cards

Vehicle decals

Advertising in print and online

Site signage

Workwear


Who can use the Supporting Women in Trades icon?
Anyone who is an individual or business who supports women in construction, across any trade within the construction or infrastructure sectors.

Any educational organisation or industry membership association involved in the construction or infrastructure industries.


Guidelines for use
We trust you will take care of this icon as carefully as you do your own brand — they're both valuable assets.
By downloading this artwork file, you agree to only display the Supporting Women in Construction Trades icon ("the icon") on the above list of business-associated promotional material and nowhere else.

Not to distribute the icon to any third party except a supplier of creative in order to produce business-related advertising and collateral material for your own purposes.
Not to use or display the icon in any way that is likely to dilute, defame, disparage or harm the reputation of BCITO or the industry.
BCITO reserves the right to revoke the use of this icon at any time, for any reason as deemed appropriate by BCITO and its management. This could occur if your business's actions bring the icon and brand into disrepute.
BCITO will publicly distance itself from any person or business that brings the icon into disrepute.
By downloading and using this artwork you acknowledge the above guidelines of use of the Supporting Women in Construction Trades icon.

Got some questions?
Contact us and we'll get you sorted.