Mana wāhine Outward Bound scholarship
Outward Bound is a once-in-a-lifetime experience and helps young leaders build confidence, become self-aware and improve communication and teamwork skills. These skills are vital in today's competitive training and employment market. 

Applications are currently closed.
The Mana wāhine Outward Bound scholarship sets aside three places on the course to encourage wāhine to attend, supporting the growth and development of this group who are currently under-represented in trade careers.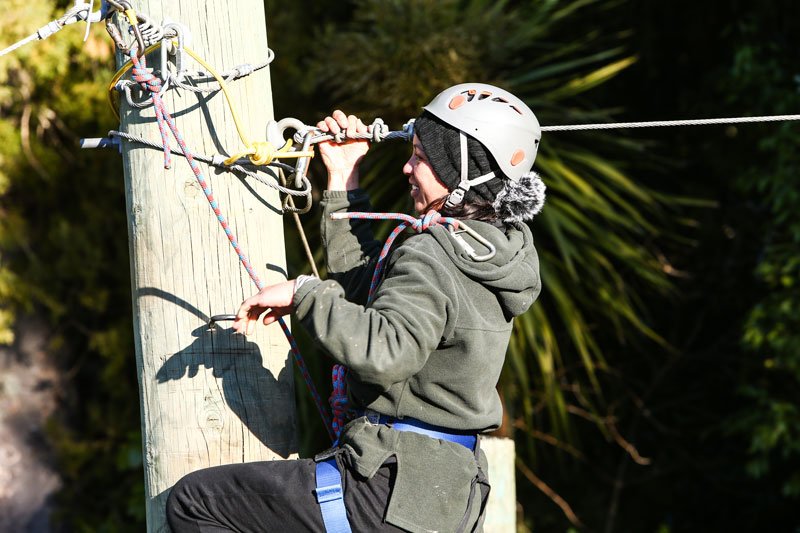 Outward Bound taught me self-control and positivity
Sarah Atkin from Scotty's Construction, was a recipient of the BCITO Mana wāhine Outward Bound scholarship, attending a course in 2018. 
Sarah and her watchmates didn't know what they were getting themselves into at the beginning of their course. Sarah says, "When I first arrived at Outward Bound I was nervous and excited. I had never done anything like this before. I knew there was a high chance that we would be doing cold water dips some mornings, but that was all I knew. I wasn't prepared for how much the course would affect me mentally."
Sarah's Outward Bound course was attended by about 80 young construction apprentices who were split into groups of 14. Sarah says, "I liked the supportive and friendly atmosphere on the course. There was a real community feel to the place. Everything one person thought or did had an effect on everyone in my group.
"Being on the course really put into perspective how negativity affects a person's behaviour and attitude. I learnt how key communication is. If you didn't communicate properly on course, nobody could help you and you couldn't help those around you who might have also been struggling.
"From now on I am going to be focusing on being more positive towards everything and trying to reset my mindset to be more positive instead of negative - to keep reminding myself that no matter how bad a situation is, my attitude and mindset is still mine to control and can sometimes be the difference between unbearable/impossible and enjoyable/achievable."
Who is eligible?
Applicants must be female and should be aged between 18 and 26 years old. Applicants must also be signed into a current training agreement with BCITO.
When can you apply?
Applications will be open on Monday 10 February 2020 and will close on Friday 27 March 2020.
How and when will applicants be notified?
We'll notify you whether your application has been successful or not by mail or phone within one month of the BCITO ELT meeting held after applications close. Your BCITO Training Advisor or BCITO Business Development Advisor will also be notified. 
Want to know more?
Email BCITO scholarships