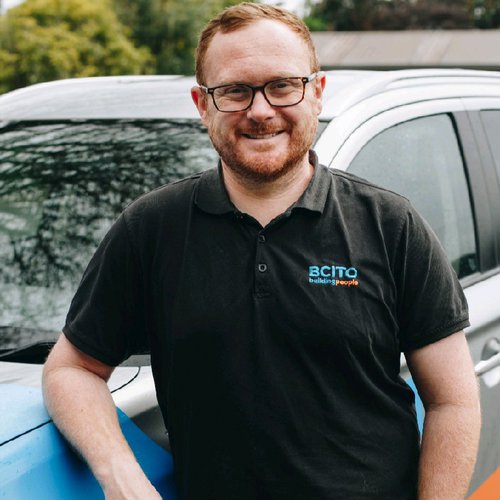 Being a training advisor enables me to help people through their apprenticeship and see them achieve - this is a great feeling. It also allows me to give back to the career that has given me so much already and continue to be a part of the industry.
My brick & blocklaying journey
My journey into the brick and block laying industry was by chance. I was 18 at the time and was looking for full-time employment as a step up from the part-time work I was doing. A friend of mine was an apprentice with a local bricklayer, Lindsay Gagen, and let me know they were looking for a labourer for a few weeks on a reasonably sized block base. I worked for two weeks and on my last workday, Lindsay said "see you on Monday". Fast forward eight years and I left Lindsay to be a Training Advisor with BCITO.
I see myself as naturally creative and especially enjoy projects that stimulate that creativity. My Stage 2 block course was a great opportunity (for an apprentice) to flex that creative muscle, as we were not bound by the generic brickwork of group housing.
We were lucky as apprentices with Lindsay to have a generally great scope of work in both brick and blocklaying. We mainly completed single and multi-level brick veneers. However, Lindsay made sure we had at least 6-10 varying kinds of block work a year ranging from simple bases to masonry villas, a 2-story gable-ended block mechanic workshop, and architectural masonry homes.
The scope of work that generated our creativity and excitement for the job was when we undertook Hinuera stone (a unique natural volcanic stone quarried from the hills of Hinuera in the heart of the Waikato) and other natural stone projects. We were one of a few companies at the time that specialised in this scope of work. Using a new product that challenged us due to the different faces, sizes, bonds, and having to lay them around indoor and outdoor fireplaces, stimulated the team and we left these jobs with a unique kind of satisfaction and pride.
Getting off the tools
I spent eight years on the tools and am now coming up for five years as the brick and blocklaying Training Advisor for the greater Auckland region. I put the tools down to try something new. At the time I didn't know whether this opportunity would present itself again and I have always enjoyed working with the er apprentices and helping them on their journey.
Being a brickie had its up and downs. Some bases were absolutely horrible to lay on and some veneers had really interesting features that once completed, you were proud of and would show off. One of the best parts about the job was working with a team. Brick and block work can be tough, especially physically. Working with a group of people that had the same mentality and all worked together to meet a common goal brought me a lot of joy.
Current changes in the sector
One of the things we are seeing up in Auckland that might impact the future skills of a brick & blocklayer is a shift in the importance of brickwork on buildings.
There are a few construction companies that are challenging some of the norms that have been applied to brickwork over the last 15-20 years. More of these companies are designing and building more complex brick bonds, designs, and structures. These changes are great for our industry and the brick and blocklayers undertaking this work are doing a great job of showing off what we can do.
With this change, I hope that the next generation of brick and blocklayers are skilled and confident enough to undertake this work and continue to showcase excellent bricklaying skills.