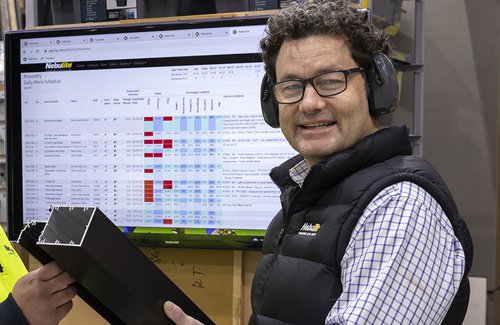 The opportunity to support the development of the next generation of fabricators for the industry, alongside growing individuals' skills and associated horizons and opportunities, provides a real chance to give back to an industry I am passionate about. Hopefully, my background encompassing management, industry training, and manufacturing systems will enable me to contribute positively to highlighting existing training needs alongside forecasting skill sets needed for the future.
I am originally from a small beef and sheep farm in North Canterbury which my family still run. Following boarding school in South Canterbury and Christchurch and a brief stint at the University of Canterbury, I was lucky enough to be taken on as the last of the Wattie's Management Trainee Cadets before the programme ended. I spent 5 years working in all departments of the organisation from marketing, field operations, engineering, HR, and food processing alongside taking extramural courses. A great chance to meet a diverse range of people from all walks of life, often learning new skills, to support a highly seasonal and scalable business.
Following a three-year overseas experience (OE) working as a ski guide and landscaper I returned to join Amcor Kiwi Packaging. Here I worked in sales, operations, and product development roles with a focus on the pip fruit industry. My responsibilities included developing packaging supply chain operations for clients including machinery purchases and then ensuring an adequate supply of packaging was available throughout the packing season. I then followed the packaged fruit to markets in Europe to evaluate packaging performance from a fruit protection, logistics and sales and marketing perspective. It was especially interesting to evaluate the effect of any quality variability on performance. A similar challenge to that encountered in window fabrication where we need to protect the conditioned space of a building from the challenging external environment, but for a much more extended period of time.
In 1997, an opportunity to return to Christchurch was made by Asure NZ, the state-owned enterprise delivering front-line meat inspection services to the meat industry. My role here was initially as an operations manager working with over 200 staff to provide front-line services inside meat works. Over time the role grew as Asure became an Industry Training Organisation (ITO) providing Food Safety training to the wider meat industry. A great chance to see course creation, course delivery, course assessment, and assessor moderation in action. Time spent working with our clients to design training delivery methods that met their business needs and trainee availability is hopefully a skill that will provide insights for the future. By the end of my time with Asure, we were providing nationwide training to hundreds of frontline staff in the meat industry.
Fuelled by a passion for manufacturing and a desire to develop my own business, I established a roofing company, Southern Roofs, in the early 2000s. This was a start-up business and was a great learning curve in all aspects of business operation and entrepreneurship. Having grown the business to a saleable size, I then took an opportunity to purchase Nebulite Garden City in 2006 and move into a larger scale business. Over the last 18 years, NGC Windows has grown in both scale and range of services offered, including full in-house installation teams and the development of manufacturing and site software systems for planning, QA, and business management.
I look forward to meeting the other advisors and the wider BCITO team and gaining an understanding of the role and the opportunities to assist.