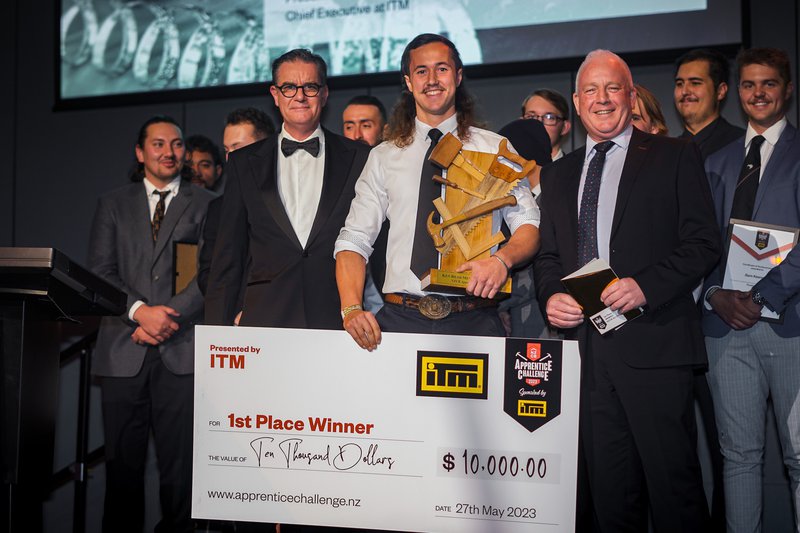 NZCB CEO Malcolm Fleming (left), Alex Erickson winner of Apprentice challenge (middle), ITM CEO Darrin Hughes
Apprentices had a practical challenge where they were put into pairs to build a trike and trailer, with tools and supplies provided by one of the merchant sponsors. Apprentices were judged based on workmanship of the set tasks, industry knowledge, and an oral presentation to all in attendance.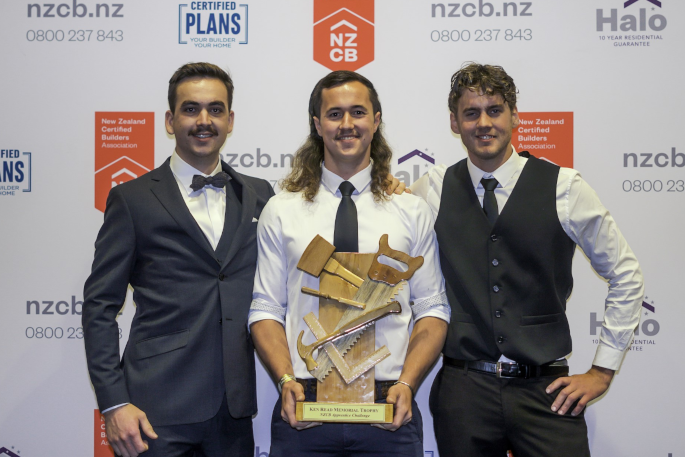 Daniel Merwyn from Taupo 3rd place (left), Alex Erickson winner of Apprentice challenge (middle), Jared Menzies BCITO apprentice from Tauranga 2nd place (right)
Alex Erickson of Canterbury placed first with the title of New Zealand's top apprentice, receiving the Ken Read Memorial Trophy. Jared Menzies, a BCITO Te Pūkenga apprentice from Tauranga placed second, followed by Daniel Merwyn of Taupo in third. All finalists received generous prize packages from event sponsors. This is the first year BCITO Te Pūkenga was proud to support this event, noting that of the 21 registered apprentices, over half were training with BCITO Te Pūkenga. The Apprentice Challenge concluded with the Great Apprentice Fun Race using the trike and trailers that were built. This was won by Daniel Merwyn from Taupo and Zhuoming 'Kevin' Fu from Waikato.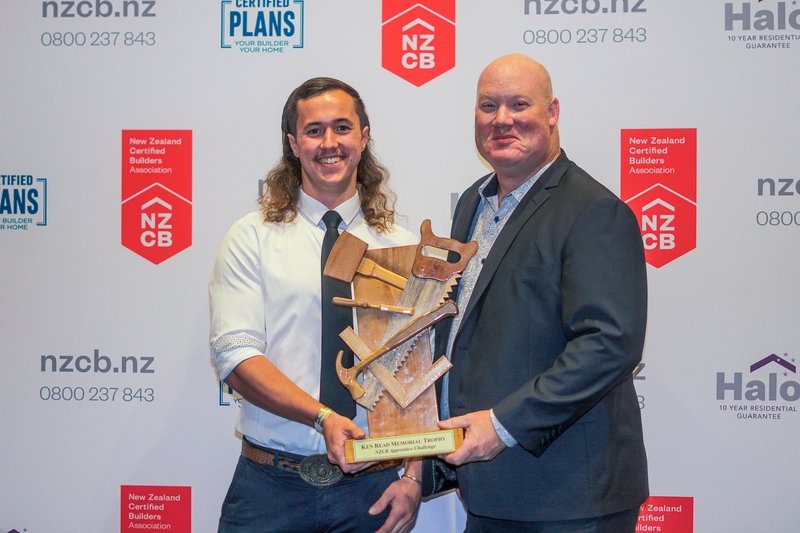 Alex Erickson winner of Apprentice challenge (left), Nick Matthews NZCB Industry Pathways and Apprenticeship Manager and Carpentry NAG member (right)
With a busy couple of days at the conference we had the privilege of hearing from keynote speaker Sir Graeme Henry, former All Blacks Coach and one of the most successful rugby coaches in the world. He delivered an inspiring message which touched on mental health and wellbeing while sharing his own firsthand experiences. He discussed the importance of team culture, ongoing team development, and tips for leadership which have proven to be a success throughout his life both inside and outside his coaching career.
A new initiative was launched at the conference called the NZCB Apprentice Network. This is designed to provide wrap-around support to apprentices employed by an NZCB member. This includes providing educational support that complements the BCITO Te Pūkenga carpentry apprenticeship training modules, as well as access to mental health and wellbeing support, deals with selected merchants for tools, and ongoing professional development and networking opportunities. This is very encouraging to see NZCB's commitment in ensuring apprentices get the most positive experiences while undertaking their trade training.