Get the qualified brand
BCITO Te Pūkenga helps industry build professionals of the future.
We're doing it right now. We'd like to tell everyone and we know you do too — we know how proud you are to be part of an industry that values professional qualifications and is heavily involved in training our people.
Introducing the BCITO Te Pūkenga mark
We'd like to share an aspect of our well-respected brand with your business. This is something we've been asked to provide for a while and now we've made it happen.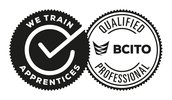 For businesses who train apprentices

For individuals who hold an NZQA qualification achieved with BCITO Te Pūkenga
Displaying your partnership can help grow your business
Show customers and the wider market that you're a formally qualified professional

Tell Aotearoa you're a business that's involved with training qualified professionals for the future, today

You can use the BCITO Te Pūkenga mark to help promote your business on any of the following promotional material:
Company website

Stationery — letterhead and business cards

Vehicle decals

Advertising in print and online

Site signage

Workwear

Who can use the BCITO Te Pūkenga mark?
You can use the mark if you are:
a business who currently trains apprentices with BCITO Te Pūkenga; or

an individual who holds an NZQA qualification gained through BCITO Te Pūkenga

Got some questions?
Contact us and we'll get you sorted.