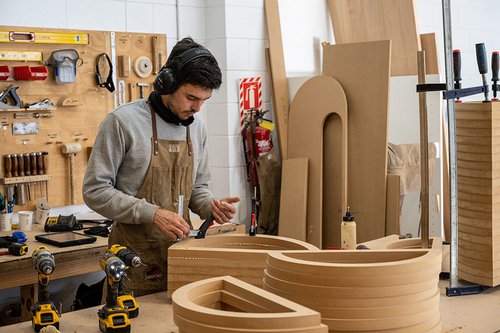 Philbe Design is on the cutting edge of furniture design and manufacturing, creating bespoke, beautiful, one-off furniture items for Auckland and broader NZ markets. Its furniture design pieces are just as much functional furniture for the home or office as a piece of art.
This level of craft offers Philbe apprentices the opportunity to focus on high-end products requiring a fine eye for detail and commitment to quality skill sets.
Positioned down a classic West Auckland Industrial estate, the unassuming Phillbe factory and surrounds contrasts to its highly organised interior with state-of-the-art machinery, CAD software and computer systems. Much of Philbe's design work is for privately commissioned clients, leading architects and designers, retail shops, and office spaces. When commissioning pieces, they are assured of the highest quality, materials, and workmanship. Philbe's prides itself on "listening" to the brief and providing the client with a creative one-off piece of furniture to fit the needs of the intended space.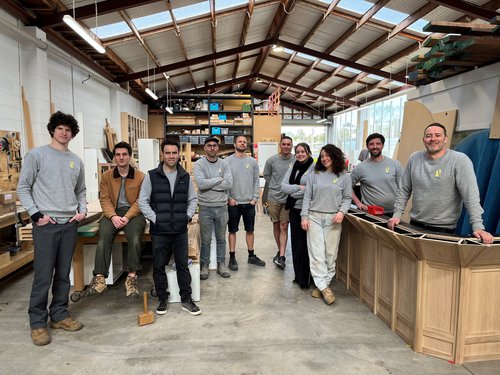 Owner/designer Phil Horner and production manager Matt Fuscic lead Philbe Design. Together the two come from broad-ranging backgrounds in and around the timber joinery sector – carpentry, super yacht interiors, kitchen construction, and shop fitting. This has enabled a business to be developed around broad markets and skill sets. A robust list of timber joinery apprentices and designers have progressed through this factory and training programme to become qualified tradesmen and tradeswomen competent to perform some of the most complex joinery tasks.
Philbe's has five current apprentices, Kate Campbell, Teina Smith, AJ Cox, Isaac Tribelco, and Malika Sauvaget. Apprentices can use state-of-the-art machinery such as CNC and CAD design software, classic timber joinery machinery, lathes, and traditional finishing hand and power tools. Tradesman oversight, mentorship and training is provided by Guillaume Angibert, Phill, and Matt, along with Training Advisor, Lloyd Charlton.
Philbe Design is another excellent example of Industry based training fostering life-changing growth for trainees while strengthening the industry for the future.