Aluminium joinery more than a job for AAJ Apprentice of the Year
This year's AAJ Apprentice of the Year, Jonty Smith, is a young man with a bright future. In what caps off a stellar 12 months for Jonty, he was also recognised as the Most Promising Apprentice at last year's ceremony. Jonty credits the training he received, specially geared to his dyslexia, for giving him a lot of the right stuff to succeed.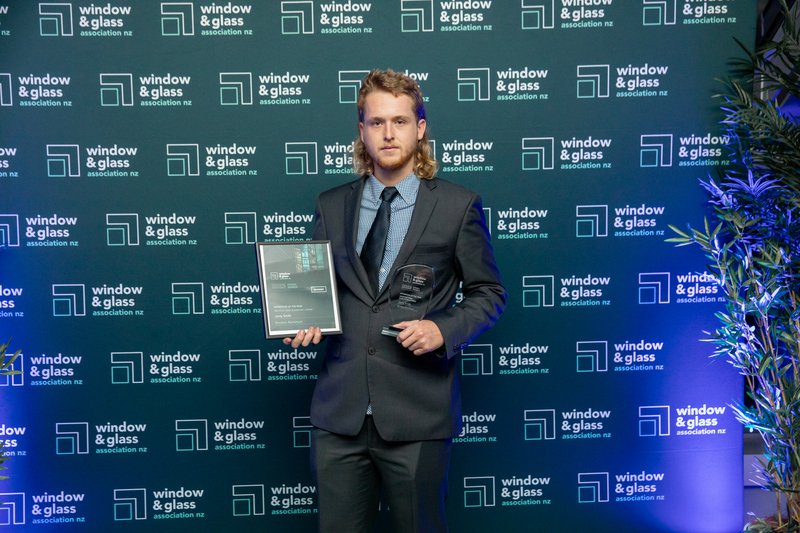 A goal of BCITO, Te Pūkenga is attracting more people to the building and construction sector – no matter a person's age, experience, or the type of job they had previously. And just like the people who come into the industry, it's important that the teaching isn't one size fits all. Learning is always a custom job.
Jonty is passionate about his work, recognising the direction it has given him and the doors it has opened. For those reasons (and in Jonty's words), it's more than just a job.
Some research suggests dyslexia can be a strong creative driver – particularly in fields that involve visual spatial thinking. The key, of course, is harnessing these talents.
A hands-on person by nature, Jonty also found the BCITO training app (which apprentices can upload on their phone) convenient and easy to use.
He was easily able to upload photos on his phone via the app and comment on them to describe how and what he was doing.
"The app worked well with the photos as I didn't have to do a lot of writing. The other positive was that it gave me more time on the tools. It gave me the chance to upload what I needed to meet training requirements without losing too much time to bookwork."
Jonty's progression has seen him do more offsite work and take on additional responsibility.
"I really enjoy doing work off site because it exposes me to different varieties of work outside the workshop. I enjoy managing the floor coordination as well as learning how to take on the challenging aspects in my aluminium joinery career."
Having now received two awards in the space of 12 months, what words of advice does he have for those thinking about whether to try out a BCITO apprenticeship?
"Doing an apprenticeship is a great way to grow your own knowledge, but it also offers you a qualification and sets you on a pathway toward better pay and a higher leadership role within the company. For me, it's more than just a job. It's given me direction and opened a lot of doors."
Aotearoa New Zealand needs more people from all backgrounds to consider a career in the trades. BCITO has the resources and support systems in place to ensure everyone has an equal shot at success. To learn more, head to https://bcito.org.nz/apprentices/.
More News
Wood Solutions have been carving out the way for sustainable practices and diversifying their workforce. They are minimising and repurposing waste and create a healthier and more welcoming workplace where 1/4 of their workshop are female.
Jenna Toailoa and her husband Manu's RedRock Plastering has been making a name for themselves with their high quality work all the while taking on apprentices, showing it can be done!