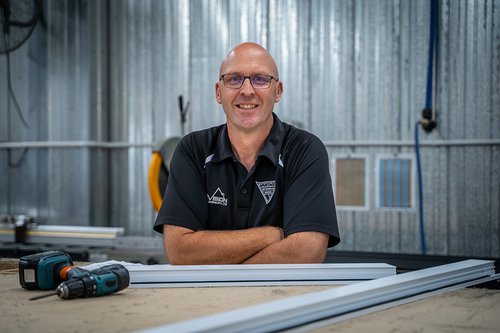 I am married to Tracy, we have three children together, Keira 10, Kellan 7, and Kelsi 6. I also have three children from a previous relationship, Bailey 23, Jonty 20, and Hunter 16. As a blended family we share and enjoy coming together often. Quality family time and connection are very important to us all. We live on a small lifestyle property on the outskirts of Blenheim, where we raise beef and sheep. For me, this is a great escape from the pressures of owning and operating a business.
Tracy and I own and operate Envision Aluminium Ltd together. Envision is in Blenheim, we have serviced the Marlborough region at the top of the South Island for almost nine years.
As a couple, we work together really well. Tracy takes care of accounts and other administrative tasks; and I take care of all the other day-to-day responsibilities associated with managing a business.
Over the past 9 years as we have built and grown our business, today we employ 14 staff members. We have a great team of people, with some very experienced people and those at the start of their careers. We also proactively train apprentices, with four currently completing their appropriate qualifications.
Twelve months ago, Envision moved into a brand-new purpose-built facility and we invested heavily in new plant and machinery. The new technology enables Envision to stay at the front of the pack, with increased efficiencies and focus on manufacturing consistent quality of product.
For over 30 years, I have been directly involved in the building and construction industry. During this period, I have either trained or worked in several roles including Timber Machinist/Joiner, Builder, Production Manager, Branch Manager for a National Building Supplies Merchant, Factory Manager, and Project Manager.
Over the length of my career, I have always been an advocate of ongoing education and industry training of staff. I have personally trained and have had many apprentices in multiple industries over this period.
I believe training empowers people with the best tool in life - knowledge. It gives them a greater understanding of what they are doing, it also fills in all the blanks, answers the how's, and the whys, and gives validation on why we do certain things in certain ways or follow processes.
Staff who hold qualifications are more valuable to their employers and skilled staff are also more productive. From a 'team' perspective, training creates a sense of belonging to a workplace or organisation.
Providing training opportunities for your staff can be the best investment you can make in your business; it will only add value and strengthen what you have already.
I am looking forward to joining and working with the team on the NAG for AAJ.