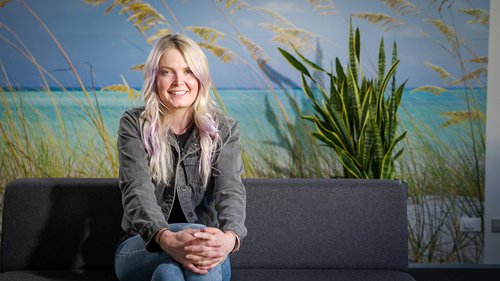 Before stepping into the world of resin flooring, Jade spent a solid decade in the dog grooming industry, where she proudly ran her own dog grooming shop. Growing up throughout the north island and ending up in the Wairarapa for her college years, Jade spent many weekends free diving for crayfish, claybird shooting, fishing, and duck hunting. Her love for being active meant that her preference was a role where there was continuous change, and she could be physical. This led her to dog grooming.
However, fuelled by a combination of a curious mind and being in the right place at the right time. Jade sought a career transition. She 'parked the pooches' to train as a phlebotomist – being a medical professional who's trained to perform blood draws. This didn't align well with Jade's preference for a changing work environment, so Jade took up a Painting position with a company that also lays Resin Flooring. It was here that she was given the opportunity to push boundaries and explore the opportunities in a very male-dominated industry.
When asked about the switch, Jade revealed, "I wanted to embark on the apprenticeship because I wanted a change in career, and the apprenticeship is helping me gain a qualification in the field of resin flooring."
Jade's initial transition into the construction industry involved making walls and ceilings look fresh and colourful in the world of painting and decorating, but the experience left her searching for something more fulfilling.
It wasn't until she tried her hand at flooring that she discovered her passion. "It's something new every day, and I get to work somewhere different every day too. I like the physical aspect of it and working with my hands," she shared.
Jade doesn't see herself any differently from anyone else on site however, she is unique to this sector, being the first female resin flooring applicator and the first female to undertake the Resin Flooring qualification.
One of Jade's favourite aspects of her newfound profession is the boundless creativity each job offers. Every job has a unique sense of creativity, so "It's great to see the 'befores' and afters of every job," Jade explained.
Peering into the future, Jade envisions herself as a qualified professional, having successfully completed her apprenticeship. Jade's journey exemplifies the transformative power of embracing change. As she continues to thrive in her apprenticeship, Jade stands as a testament to the limitless possibilities that arise when individuals follow their passion and embark on new and exciting career paths.