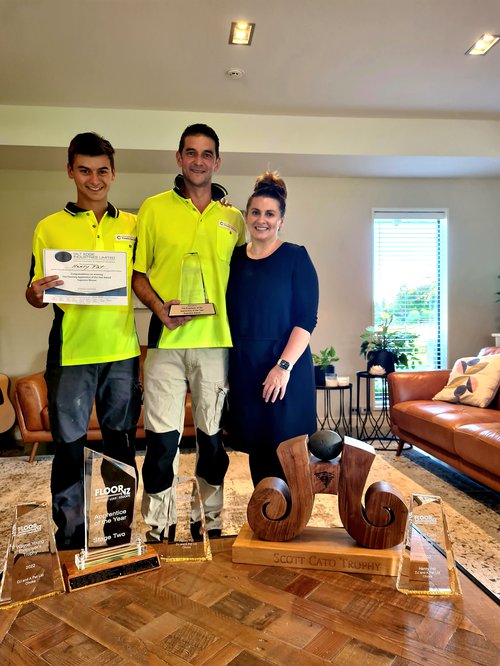 The Stage two apprentice of the year is awarded to the best performing apprentice at stage two block course. The criterion for this award is someone who turns up to block course well prepared, shows professionalism and the quality of work demonstrated during block course. The Supreme Award of the Scott Cato trophy is awarded to the trainee with an overall stand out performance and achievement at block course.
Henry started his apprenticeship at the very young age of 15 working for his father's business, Christchurch Timber Sanding. With support from family and his hard work and dedication, Henry has now completed his flooring apprenticeship at 17 years old. What a fantastic achievement at such a young age.
I was very fortunate to have attended Henry's award presentation and it was fantastic to see the love and support from his family who were immensely proud of his achievements. When I asked Henry what it meant to him to be awarded the Stage 2 apprentice of the year and also the Supreme Award of the Scott Cato Trophy, he said that he felt very special and that all the hard work that he put in paid off.
The best advice that Henry has been given is 'to have patience that the work you put in at the start of the job helps the rest come together'. Henry also encourages others to consider a career in flooring explaining that there are so many different avenues in the flooring trade so its just about finding what you like.
With his flooring qualification behind him, Henry is happy and enjoying where he is at the moment.
BCITO would also like to acknowledge and congratulate Christchurch Timber Sanding, who were awarded the Wayne Young Trophy for Employer of the Year. This award recognises the contribution that an employer and their staff have made to industry training and the betterment of the flooring industry.
Congratulations again to Henry Pat for being awarded the Stage 2 Apprentice of the Year and the Supreme Award of the Scott Cato Trophy. We look forward to seeing what his journey in the flooring industry will look like in the future and wish him every success.