Install insulation micro-credential
big step forward for construction
A Waikato-based PinkFit® Insulation Installer has become the first New Zealander to achieve BCITO's Install Insulation micro-credential.
Shorter bite-sized learning achievements known as micro-credentials, became a recognised part of New Zealand's qualifications system in 2018 when BCITO became the first organisation to register a micro-credential on the NZQA Framework. The Install Insulation micro-credential is the second to be offered by BCITO.
Steve Turnbull, PinkFit® National Install Services Business Manager assisted BCITO in the development of the micro-credential and was also the first person to complete this micro-credential.
Turnbull says, "It's great to be part of formally recognizing skills and creating a pathway for the installers and industry."
Richard Arkinstall, IAONZ (Insulation Association of New Zealand) is pleased that installers can now access specialised training, "IAONZ has been focused on developing a qualification for the insulation industry to drive installation quality standards but also provide a career path and recognition for those in the sector. The installation of insulation must be done by professionals as ill-fitted product can reduce effectiveness by up to 50%. Having a qualification provides assurance to the market that the sector is providing the right training and qualifications to deliver quality homes for New Zealand."
Jason Hungerford, Director of BCITO, a division of Te Pūkenga Work Based Learning says, "Our sincere thanks go to key stakeholders in the industry, in particular IAONZ (Insulation Association of New Zealand), Insulation Solutions and Pink® Batts® insulation for coming on board to help us develop the micro-credential and pioneer an initial pilot programme.
"These smaller, bite-sized qualifications are responding to the sector's changing demands. We're working hard to make training more attractive and relevant and these courses are a part of that. Creating warmer, livable, healthier homes for all is a key goal in Aotearoa New Zealand. New insulation standards have been required by rental properties since July 2021 and all new builds must now meet the insulation standards set out by the Building Code to create thermally fitted insulated buildings. This micro-credential will formally recognise the knowledge and skills of people in the industry who install insulation and will help immensely towards achieving healthy homes.
"We need more skilled workers. Micro-credentials equip learners with specific skills for the niche jobs our industry requires," says Hungerford.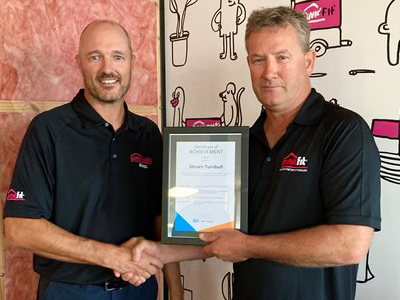 (l to r) Pink® Batts® insulation General Manager Anthony Stone, and Steven Turnbull PinkFit® National Install Services Business Manager.
More News
Jess Nielsen stands out as a trailblazer after placing third at the 20th Annual Registered Master Builders Apprentice of the Year competition; the first woman to place and the second ever to reach the national competition.
You may be aware of the Government's intention to disestablish Te Pūkenga | New Zealand Institute of Skills and Technology.