Painting her way to the top
Big congratulations to Ashley Harris of Sims & Blue Ltd in Dunedin for winning the coveted title of 2022 Apprentice of the Year.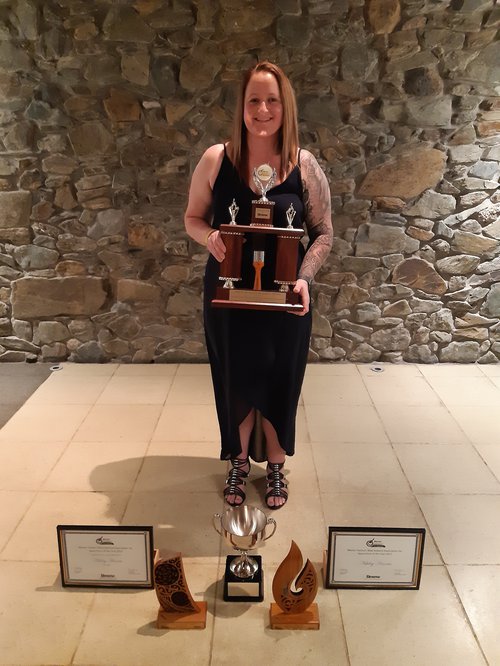 2022 Apprentice of the Year
In early September, hundreds of painters converged in Blenheim for two events; the 2022 Annual Master Painters Conference and the 2022 Apprentice of the Year competition.
Big congratulations to Ashley Harris of Sims & Blue Ltd in Dunedin for winning the coveted title of 2022 Apprentice of the Year.
Master Painters challenged four finalists to paint a room each at the Marlborough Hospice. This was a change from previous competitions of painting and decorating a playhouse. The finalists were an amazing group of talented apprentices, and they did their employers proud.
Joining Ashley in the Apprentice of the Year competition were:
Keisha Whaitiri-White, Hamish Simpson Decorating, Gisborne.
Tommy Wilson, Silver Fern Painting Ltd, Wellington.
Christine Scott – Dick, Brent Pickworth Precision Painters Ltd, Motueka/Marlborough.
A special thank you to Resene for their ongoing support of apprenticeship training and sponsoring the Apprentice of the Year competition. Thanks also to the hard work and dedication of Ash Leatherby from Master Painters who supported the finalists during their time in Blenheim as well as leading up to the competition.
We wish Ashley every success for her bright future in the Painting & Decorating industry.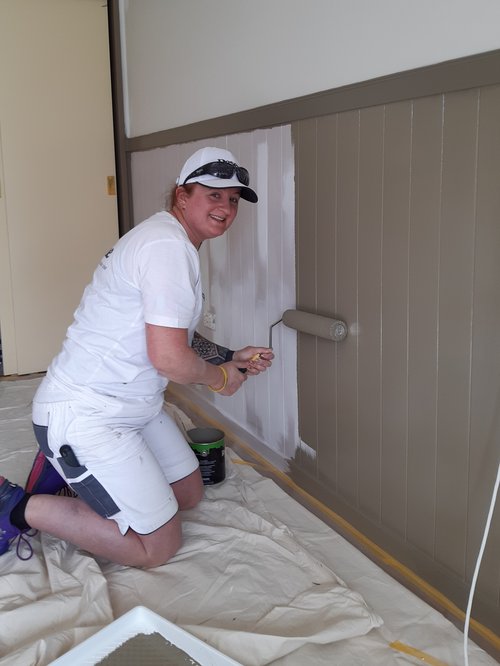 Ashley paints her way to the top
We caught up with Ashley and her employers Nathan and Glenn to hear about her painting apprenticeship journey and what winning this award has meant to her.
"Before becoming a painter, I worked as a fencing contractor and ran a busy kitchen for a pasta factory. I was always a creative, hands on, and practical person, so becoming a painter made total sense to me. I did research on local painting companies and decided to approach Sims & Blue Limited and ask for a trial. That was six years ago, and I have gone from strength to strength and never looked back.
I am always up for a challenge and the opportunity to see what I can do, so I decided to have a go at the Painting & Decorating Apprentice of the Year. Stepping outside of my comfort zone, I had nothing to lose and everything to gain. I submitted a portfolio of several jobs I had done. Next was an interview with a quiz test, followed by two site visits to jobs I had completed myself.
Thinking about the journey, Ashley says,
"As a finalist I had to prepare and paint a room in the Marlborough Hospice. Everything had to be done by hand due to there being people in other hospice rooms. Masking the floor, sanding, filling gouges and holes, gap filling, priming and two coats on the ceiling, walls, skirting, dado, trim, and doors. Colours were chosen for us by a colour consultant to match the new flooring and curtains. We each had four different paints with a range of finishes from gloss to flat depending on the surface and its requirements.
Winning Apprentice of the Year is absolutely life changing. It certainly has given me more confidence in myself and my skills. In the future, I see continuing to work on my house renovation (outside of work). My partner and I are currently in the process of flipping two houses. I plan to take time off to spend with my expanding family, then I hope to teach and share my passion with those new to the trade.
Ashley's advice to next year's apprentices vying for this award is,
"Give it your all and go for it. Enjoy the whole experience, take on any advice and tips given to you and don't be too hard on yourself. Grab every opportunity and take on any advice given to you. You never know when you may need it."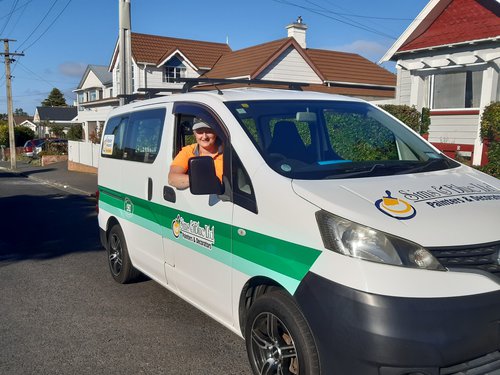 Sims & Blue business is passionate about training
John Sims and Gilbert Blue formed their company in 1962 and celebrate their 60th anniversary in November 2022. It has stood the test of time and is now an iconic Dunedin firm. John Sims has been the driving force for years, however, now acts as a mentor to his two sons Nathan and Glenn who manage the day to day running of the company.
The name John Sims now features on the South Island Apprentice of the Year Cup, the John Sims Cup, which Ashley won this year. John reflects that,
"For Ashley, this award is huge for her career progression. We see Ashley as an integral part of our company and would like her to become involved in training other young apprentices to be successful. "
Sims and Blue believe that apprenticeship training is integral for the future of the trade.
"Our firm has always been passionate about training and bringing up the next generation of young apprentices. Many Sims & Blue Limited apprentices are now running their own companies around Dunedin and Central Otago and if you speak with them, they all hold the training they received at Sims & Blue Limited in high regard. We teach the right way to do things, not the quick way, but the right way. Doing this keeps the trades standards high moving forward."
Sims & Blue Limited currently have five apprentices, two females and three males. They all work well together and feed off each other in terms of learning and completing the bookwork aspects of the training.
"We would like to thank our fellow team members. These are the people who pass their skills and knowledge onto our apprentices each and every day. We think the award really speaks volumes about the team, as I am sure Ashley would agree."
Their advice for other employers who are thinking about training staff,

"Find the person with the right attitude and fit within your company and go from there. If you nail this, then the training itself will just flow naturally."
More News
Wood Solutions have been carving out the way for sustainable practices and diversifying their workforce. They are minimising and repurposing waste and create a healthier and more welcoming workplace where 1/4 of their workshop are female.
Jenna Toailoa and her husband Manu's RedRock Plastering has been making a name for themselves with their high quality work all the while taking on apprentices, showing it can be done!