Rove
Building our future normal
Some of you will be fully up-to-date with the Reform of Vocational Education (RoVE), others not so much. This is an update on what RoVE is all about and what stage it is at as at August 2020.
What is RoVE?
On 1 August 2019 the Government announced key changes to create a unified vocational education system. As part of breaking down the barriers between on-the-job and off-the-job training, it will disestablish the eleven Industry Training Organisations (ITOs), of which BCITO is one, and replace them with:
A new national delivery agency with a working name of the New Zealand Institute of Skills and Technology (NZIST), to deliver all classroom, digital, and on-the-job learning. This is a merger of the sixteen Institutes of Technology and Polytechnics and the ITOs.
Workforce Development Councils (WDCs) with a powerful oversight role, responsible for leading the development of qualifications, standard setting, skills leadership, brokerage and industry advocacy. They won't be directly involved in running on-the-job training themselves.
The WDC functions and the arranging of on-job training are current ITO activities. 
How does RoVE impact BCITO apprenticeships?
A key deliverable of the new training system is offering learners more support while they're training, and ensuring vocational education is relevant to today's world of work.
There's no change for employers or apprentices – our services and qualifications are not changing at all. It's business as usual, and it will stay that way throughout these reforms.  The only difference you might notice is that one day your Training Advisor may turn up wearing a different shirt. 
Where is RoVE at?
Industry Training Organisations (ITOs)
On 1 April 2020, all ITOs became Transitional Industry Training Organisations (TITOs). There is no difference in their core functions or how they operate, but being a TITO allows them to transition to a WDC and the NZIST.
Over time, TITOs will transfer their functions to other organisations:
in most instances, the administration and support of workplace learning will transfer to the NZIST 
the standard setting and qualifications function will transfer to WDCs.
NZIST
The NZIST was formally established on 1 April, and its main office is located in Hamilton.  All institutes of technology and polytechnics are now part of the NZIST.
WDCs
Watch this short clip to find out what a WDC is and what its functions are.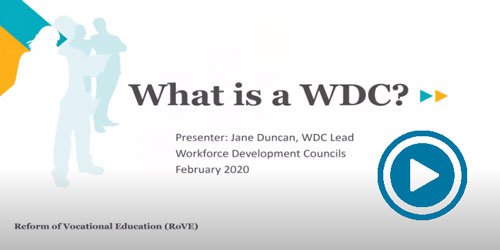 Interim Establishment Boards of WDCs
In June, six WDC interim Establishment Boards (iEBs) were stood-up.  They are responsible for setting up the six WDCs by the end of 2020. The iEBs are made up of people from industry, with the right skills to connect with, and listen to, what industry wants. They have been appointed by the Tertiary Education Commission (TEC) through an Expression of Interest (EoI) process.
Each iEB's primary role is to establish the WDC as a legal entity. Where possible, the iEB will also work with transitional Industry Training Organisations, the New Zealand Institute of Skills and Technology (NZIST) and others to provide advice and guidance to inform tertiary education system responses to COVID-19 impacts.
Warwick Quinn is a member of the iEB for the Construction and Infrastructure WDC.
Read a letter to industry from the Chair of the iEB for the Construction and Infrastructure WDC.
Design of WDCs
The WDCs design process has just reached its halfway mark.
The design work has been undertaken by the Design and Reference groups over the last few months. Our Chief Executive Warwick Quinn is on the Reference group, and it has explored the high-level requirements and recommendations for the operational design of the WDCs.
The Design Group consists of skills-based participants and subject matter experts, who create initial design options. The Reference Group - made up of a broad group of stakeholders including currently under-served learner groups, employers, industry representatives, unions, providers and senior leaders - test and refine the initial design options to ensure they are fit-for-purpose. 
Recommendations from both groups will inform the establishment of WDCs. 
Regional Skills Leadership Groups
Thirteen interim Regional Skills Leadership Groups have been established.  Their focus is to pull together local intelligence and insights that will help to identify better ways of meeting skills and workforce needs now and in the future.
The Groups are regionally based and regionally led, drawing together leaders who are already active in their communities, and who represent expertise across employment, business, industry, local iwi and Māori, and government.
Group members are enthusiastic in contributing their local knowledge. They are supporting a joined-up approach to labour market planning which will see our workforce, education and immigration systems working together to better meet the differing skills needs across the country.
Subscribe to TEC's RoVE newsletter to stay informed and get news about the Reform of Vocational Education straight to your inbox, or visit their website.