Fifty years for Flooring expert
The title of this story may sound like a sentence, but it has been a pleasure, says Scott Cato who has amassed five decades of experience and knowledge within the Flooring industry.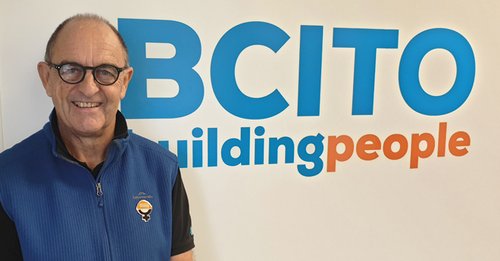 Scott, who currently works as a Business Development Advisor in the Waikato, recently announced his retirement. Scott has built up a wealth of knowledge after spending five decades of his working life in and around the flooring sector. In celebration of his exceptional career, it's a privilege to share his story with you.

Like every good story, it starts with a girl. At the tender age of 17, Scott was persuaded by his girlfriend's father, who worked at UEB Industries, Bremworth Carpets that a cadetship with the company was the right career decision for him. Scott applied and managed to get one of only two Bremworth Carpets cadetships available in New Zealand at the time. From then on, he was caught hook, line and sinker on the flooring industry.
Scott progressed through his cadetship and went on to have many exciting adventures while working with Bremworth Carpets. This part of his life took him all over the world breaking new ground and selling New Zealand wool carpet in London, San Francisco and the Middle East. Not bad for a bloke that had previously never been further than Napier! 
Scott then went on to work in many other companies across multiple arms of the flooring industry, including wholesale and distribution, retail, installation, and manufacturing. Scott says, "Through the good fortune of having someone guide me at the age of 17  into the flooring industry, I've been able to travel all around the world, I've met fabulous people and have a career that's lasted 50 years."
Just over ten years ago Scott brought his considerable skills and knowledge over to industry training, firstly with the NZ Flooring ITO and then within BCITO. The influence and dedication Scott has shown to the countless apprentices and employers that he's been in contact with during this time cannot be understated. 
Scott says some of the most memorable moments in his current role have been watching apprentices throughout their training journey and then seeing them becoming qualified professionals. He says, "The unbridled joy of handing a qualified installer their National Certificate in Flooring when I've been part of that journey with them. You can't replicate that sense of achievement you get in seeing the future of the industry grow in front of your own eyes." 
We asked Scott what his plans were for retirement and he came back with the classically poetic Scotty quote, "Someone very wise said to me that you never truly retire, you just reinvent yourself!" Scott plans to utilise his talent as a wordsmith and will volunteer his time reading to primary school children and hopes to spark their imagination, and help to impart the joy of reading.
Scott, if you're reading this, thank you for allowing us to publish this short story about your long career.  We will miss you, and we thank you for your sincerity, dedication and passion in everything that you do every day on the job. Best wishes for your future. Scotty. We know there is no doubt that your readings will inspire many young minds.   
More News
The Building and Construction Industry Training Organisation (BCITO) has set a record of 16,000 apprentices in training.
Have you heard? – the NAWIC Excellence awards 2021 are happening and open for nominations!